Return to Headlines
New Trier Fine Arts Association: Supporting Student Artists to Perform During the Pandemic
(Winnetka - December 8, 2020) Like so many aspects of our lives, the performing arts at New Trier High School have been turned upside down by the Covid-19 pandemic.
According to Emily Marshall, President of the New Trier Fine Arts Association (NTFAA), "The New Trier Fine Arts Association has been supporting Fine Arts teachers and students at New Trier as they adapt to this new environment and continue to create art, despite the pandemic restrictions."
"One way in which the NTFAA has supported the arts at New Trier during this year of remote and hybrid learning is through grants that fund visiting professional artists to work with students remotely by videoconferencing. New Trier performing arts teachers have identified artists from around the country and the world to enhance their students' experience in the arts, not only to promote their growth as artists, but also to address the feelings of isolation that so many students are experiencing," she continued.
Professional visiting artists, funded by the NTFAA, are sharing their expertise in how to adapt their craft to new challenges and opportunities presented by performing without a live audience. The NTFAA, offering grants for remote workshops across all disciplines at the school this year, has identified two grants in particular that illustrate how the arts programs at New Trier are adapting to new ways of performing during the pandemic.
New Trier alumna and celebrated voice actor Rachel Slotky presented a masterclass in voice production and voice-over work, a workshop and a Q and A session to more than 380 students through three separate sessions for New Trier's theatre and advanced acting students. These student skills will be showcased in New Trier's upcoming production of "It's a Wonderful Life," performed as a radio show.
Student actors will portray multiple characters, distinguishable only by their voice.
"This resulted from a collaboration by New Trier Theatre Faculty in brainstorming new units, projects and productions to inspire students. Vocal work is one of the main disciplines of the actor, and in remote and hybrid formats that pose physical/proximal limitations, it's a perfect choice for concentration," said Hilerre Kirsch, New Trier's Theatre Strand, Music & Theatre Department.
New Trier alum and professional dancer, choreographer and member of the Missouri Contemporary Ballet Stephen Blood will bring his considerable skills to a variety of dance classes where he will focus on dance for the camera, as well as improvisational and choreographic skills, helping over 100 students adapt to dancing for the camera instead of a live audience.
"Students will gain insight into sophisticated improv techniques and composition, exploring framing and depth from the perspective of a camera's lens," according to Christopher Rutt, New Trier's Dance Coordinator.
Mr. Blood will also work with Kinesis Dance Company as students incorporate these enhanced skills in an original composition that will be filmed and edited for a virtual performance. Mr. Rutt anticipates that this film "will be a one of a kind product that will resonate beyond this pandemic experience."
Founded in 1976, the New Trier Fine Arts Association (NTFAA) is a non-profit parent organization dedicated to promoting and enhancing the student experience in the Fine Arts at New Trier High School and building community among Fine Arts families. With more than 30 parent members, the NTFAA provides grants to art, dance, music, theatre, media and speech classes to fund visiting artists, workshops and annual arts events, offers Summer Scholarships to continuing Fine Arts students to pursue their studies through the summer months, and provides confidential student financial assistance and support, allowing students with financial needs to participate in school-sponsored trips and excursions that would otherwise prove cost-prohibitive. To donate or learn more, please visit the NTFAA's webpage at www.newtrier.k12.il.us/ntfaa.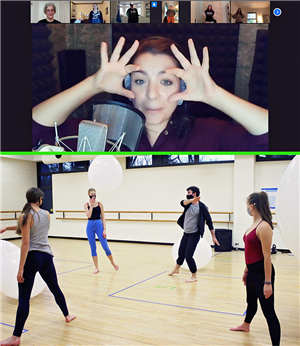 Caption Information: (Above) New Trier students preparing for "It's a Wonderful Life - Live Radio Show" with voice actor Rachel Slotky in a NTFAA funded video workshop. Photo courtesy of New Trier High School; (Below) New Trier Kinesis dancers rehearsing with NTFAA funded guest choreographer, Stephen Blood. Photo courtesy of New Trier High School.