Dual College Credit, PLTW College and Scholarship Credit, and PLTW
The Applied Arts Department at New Trier High School currently offers 12 engaging dual credit courses.

Dual credit courses fall under the Applied Arts college, exploratory, career and experiential learning pathways. In each of the 12 dual credit courses, students can "opt-in" to receive college credit. Opting for dual credit provides students with an engaging applied learning approach to real-world experiences while earning early college credit. Students who opt-in take the course solely at New Trier and workload and workflow does NOT increase; work will mirror the same content, assignments and activities as the mainstream course.

Early college credit can assist students with future internships and careers, as well as reduce the cost and time with future secondary degree endeavors. Most of all, these courses are constantly changing and quickly evolving to embrace the future while helping students discover a passion, a hobby, or possibly a future mission.

Students earning dual credit will receive both a grade on their high school transcript as well as on a transcript with Oakton Community College. Dual credit courses will, most of the time, transfer to almost any post-secondary institution. If students have any questions about the transferability, they should contact their post-secondary institution of choice. In addition to course credit hours, dual credit can be applied toward or used for future endorsements, certificates, and to communicate deeper experiences into a discipline. We have also learned that there are universities that accept this credit as a way to demonstrate college rigor in high school, similar to AP.

Dual Credit has a $25 fee per course.

Frequently Asked Question: Are credits transferable?

Credits are accepted by most colleges nationwide, making these opportunities a wonderful way for students to get a jump-start on college credits. We cannot guarantee credits will automatically transfer. Many universities work with applicants case-by-case.

Below is a graphic of Applied Arts courses that have transferred to University of Illinois Urbana-Champaign.
Dual Credit at New Trier: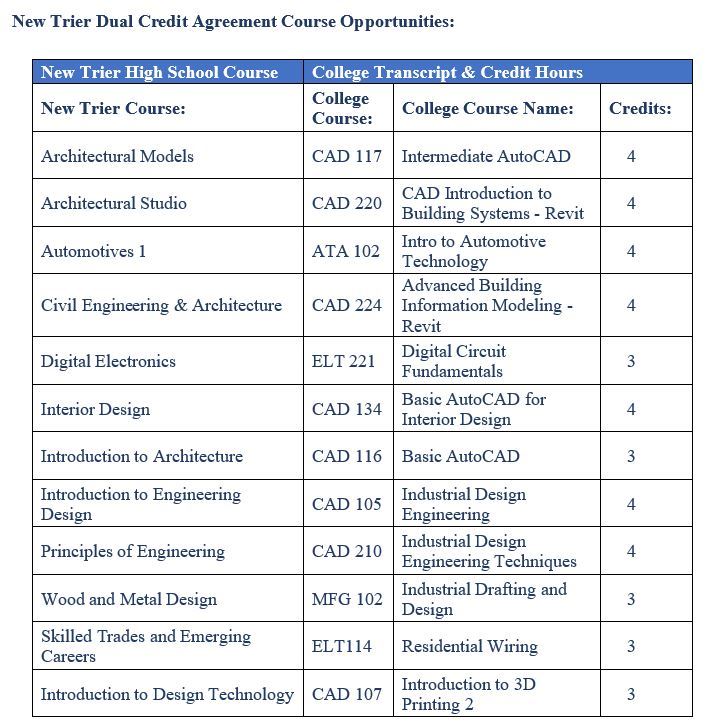 PLTW College and Scholarship Credit
(The following content has been copied from https://www.pltw.org/experience-pltw/student-opportunities )

College/University Opportunities:
Colleges and universities across the U.S. recognize and reward PLTW students for their great work. These postsecondary institutions recognize PLTW students with scholarships, admissions preference, course credit, and more. PLTW continuously audits and updates this page to ensure the most up-to-date opportunities provided through the PLTW College and University Partner Network .

Apprenticeships:
Students can search apprenticeship listings from across the country using keywords and/or locations at apprenticeship.gov. Users can filter by location, search radius, and skills, then sort the results by "most recent" or "most relevant" to find the right opportunities for you. Learn More
Current Dual Credit Courses Offered:
New Trier High School Course: Architectural Models

New Trier High School Course: Architectural Studio

New Trier High School Course: Automotives 1

New Trier High School Course: Civil Engineering & Architecture

New Trier High School Course: Digital Electronics

New Trier High School Course: Interior Design

New Trier High School Course: Introduction to Architecture

New Trier High School Course: Introduction to Engineering Design

New Trier High School Course: Principles of Engineering

New Trier High School Course: Wood and Metal Design

New Trier High School Course: Skilled Trades and Emerging careers

New Trier High School Course: Introduction to Design Technology