Return to Headlines
NTFAA Summer Scholars 2022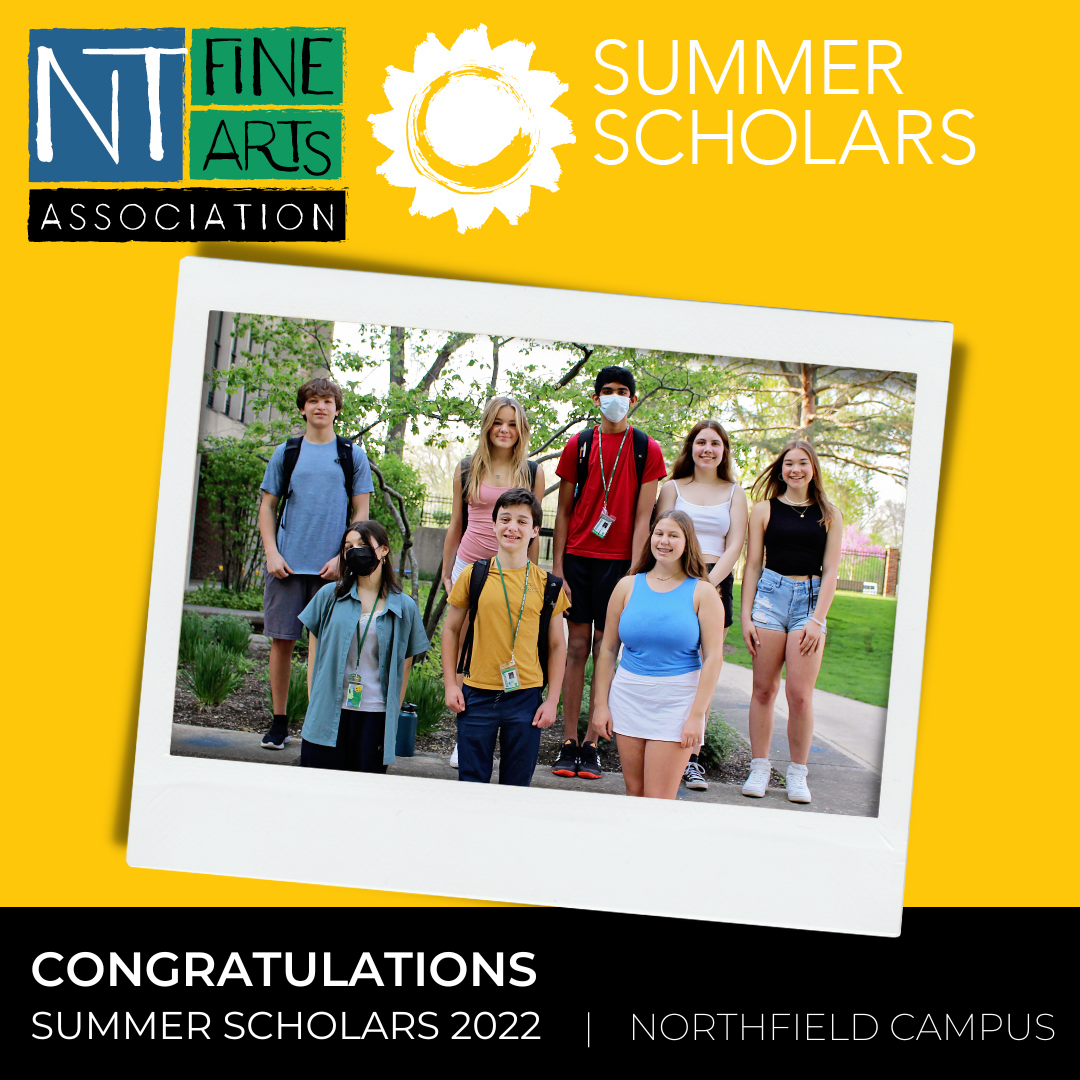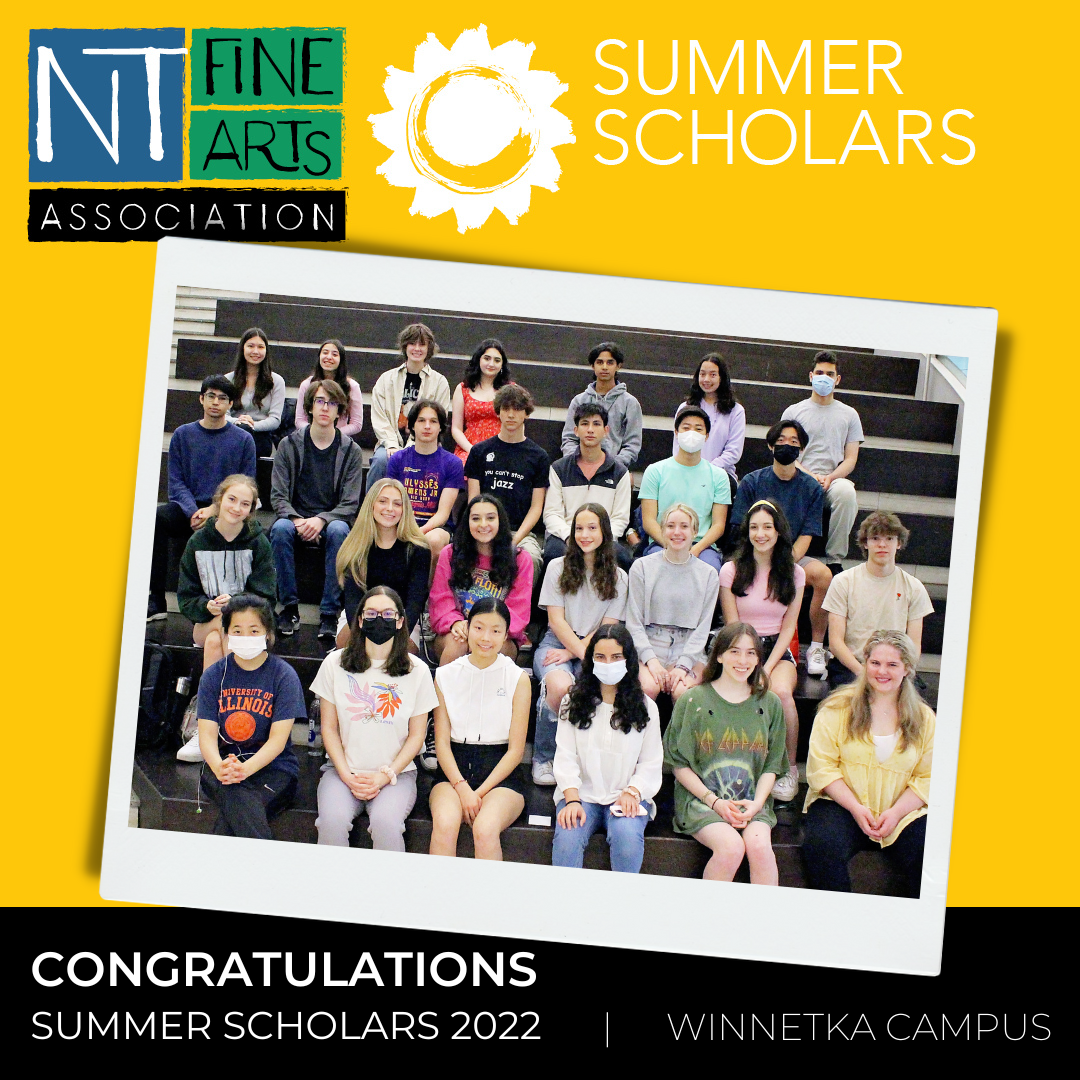 Photo Caption Information: NTFAA Summer Scholars from New Trier High School's Northfield campus (left) and Winnetka campus (right).
Winnetka - June 6, 2022
Summer Scholarships Encourage Artistic and Personal Growth for 42 New Trier High School Fine Arts Students
"Elevate my skills" ..."Take risks and make creative choices"…"Develop being an active leader and listener" …"Become more comfortable with the uncomfortable" – these are just a few of the goals of New Trier fine arts students who have been awarded Summer Scholarships to pursue their art over the summer.
This spring, the New Trier Fine Arts Association (NTFAA), a non-profit parent volunteer organization, has awarded a total of nearly $16,000 of merit-based Summer Scholarships to 42 students who take classes in the fine arts at New Trier High School. Our 2022 Summer Scholars will be pursuing lessons or summer programs in their disciplines of visual art, dance, debate, multimedia, theatre, playwriting, concert band, jazz, orchestra and voice.
"These Summer Scholarships encourage and assist students enrolled in fine arts classes at New Trier to continue their study of the arts during the summer," says NTFAA Board President, Emily Marshall. "The NTFAA believes these studies enhance the classroom experience for all New Trier fine arts students."
A student who will be attending The Cherubs playwriting program at Northwestern University says, "I believe being a well-versed and well-rounded theatre student goes beyond just acting. This year, I discovered that I really have a passion for playwriting and the creativity that it allows me to pursue. I hope to continue my theatrical journey in college and beyond by being part of this program."
Another student who will be attending The Savannah College of Art and Design shares, "The Scientific Botanical Illustration course is something I believe will help broaden my horizons in the conceptual art world. Plants and nature in general, as well as science, are big interests of mine, and yet I find myself very rarely incorporating those interests into my artwork. I believe this class will bridge that gap between interests for me and will introduce me to an entire world of art making I am not yet familiar with."
A student who will be attending Interlochen Arts Camp's Musical Theatre Production summer program states, "Being able to go to an international camp and learn from a variety of teachers and professionals will help me expand my skills and knowledge, as well as to continue creating bonds with people that are in the arts."
Scholarship recipients will attend programs, such as the Michigan Policy Debate Classic, MPulse Theatre & Drama Academy at the University of Michigan, NYU Tisch School of the Arts' Film and TV Industry Essentials, Birch Creek Summer Music Academy and the School of Creative and Performing Arts' Songwriting and Music Recording summer camp. Some will be taking classes, including figure drawing at the School of the Art Institute and ballet and contemporary dance at Incite Dance Center. Others will take private music lessons in trumpet, trombone, cello, violin, viola and voice.
The NTFAA congratulates these students for pursuing their arts over the summer. To view the list of scholarship recipients and the programs they are attending, please visit https://www.newtrier.k12.il.us/ntfaa and look for the "Scholarship Info" tab. Applications for next year's Summer Scholarships will open on the NTFAA webpage in January of 2023.
Founded in 1976, the New Trier Fine Arts Association is a non-profit parent organization dedicated to promoting and enhancing the student experience in the Fine Arts at New Trier High School and building community among Fine Arts families. With more than 40 parent members, the NTFAA provides grants to art, dance, music, theatre, media and debate classes to fund visiting artists, workshops and annual arts events, offers Summer Scholarships to continuing Fine Arts students to pursue their studies through the summer months, and provides confidential student financial assistance and support, allowing students with financial needs to participate in school-sponsored trips and excursions that would otherwise prove cost-prohibitive. To donate or learn more, please visit the NTFAA's webpage at https://www.newtrier.k12.il.us/ntfaa.