Return to Headlines
New Trier Rowing program celebrates 20th Anniversary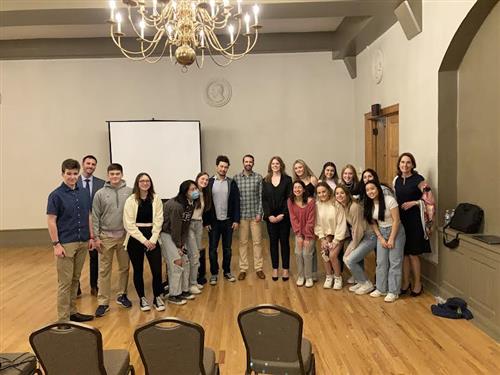 Parents, coaches, current rowers, and rowing alumni celebrated the 20th anniversary of the New Trier High School Rowing program with a gala fundraiser at the Winnetka Community House this month. Hosted by the New Trier Rowing Parent Board, the event raised proceeds from current and former rowers and their families.
"Besides successfully fundraising for two 8-boats and a new trailer, it was amazing to see rowing friends, old and new, reunite in the spirit of community," President Connie Capone said.
The evening started with a rowers-only gathering so that current New Trier crews could hear from alumni of the rowing program: Dave Stults and Andrew Rowland, two of the founding four boys who went to the school's Activities Coordinator to pitch the idea of starting a rowing program at New Trier; and Emmi Benton, who took two SRAA National championships, a 5th place medal at Head of the Charles, and a 3rd place medal at USRowing's Youth Nationals while on the New Trier Varsity Girls 8+.
"It was amazing to see so many students return as adults to celebrate all that the program has become," said Nate Kelp-Lenane, Varsity Boys' Coach. "Reconnecting with alumni and parents reminded me how much this community has put into making this program a success, and how much they learned and grew from the program. I look forward to the bright future of New Trier Rowing and all that will add to this legacy."
Parents and other supporters then joined the party, dining on food from Evanston's Soul & Smoke and enjoying a photo-filled and fun history of New Trier Rowing presented by Rose Marchuk, Director of Rowing and Varsity Girls' Coach.
New Trier Rowing was founded in 2002, quickly establishing itself as a top-tier program. New Trier crews have won 113 1st place Midwest Championship medals, 29 Scholastic National Championships, six Head of the Charles medals, and four USRowing Youth Nationals medals. Graduates of New Trier's rowing program have won Big 10, IRA, and NCAA Championships; raced against former teammates at the college level; represented Team USA, are Olympic hopefuls; and coxed a winning crew at the prestigious Henley Royal Regatta in England.

"Friendship, teamwork and resilience are a few things that make rowing at New Trier a favorite high school experience for so many rowers and coxswains," Marchuk said. "What they have learned positively impacts them over the course of their lives. The talent of our coaching staff is amongst the best and many have been on staff in excess of 10 years. It is wonderful to see former NT rowers join our staff or a collegiate staff as coaches or boatmen after college. The past 20 years gives us a lot to celebrate."