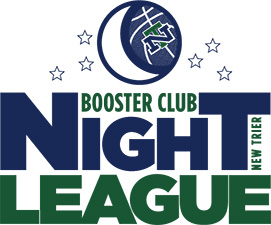 Night League 2023-24
Night League is a popular annual intramural basketball tournament sponsored by the New Trier Booster Club. Student-organized, grade-level teams must include no less than five players, and no more than 10. To roster a team, one player (typically the team captain) must submit payment via revtrack. The captain will then submit to NTBC the names of all players on the roster, as well as a team name. The roster may not be changed after the first week of play. The total fee for each team is $450, which covers referees, athletic trainers, and a Night League t-shirt for each player. It also buys your team a chance to win NT basketball fame and glory!
Each player must be a New Trier student. The Athletic Code of Conduct will be enforced. Games begin 11/8 and will be played on Wednesday nights at 7:15, 8:00, or 8:45, at the Northfield and Winnetka gyms.
Night League games will take place on the following dates: 11/8,11/15, 11/29, 12/6, 12/13, 1/10, 1/17, and 1/24. The championship games will be played on 1/31. Come on out and join the fun!
Night League Dates: Nov 8, Nov 15, Nov 29, Dec 6, Dec 13, Jan 10, Jan 17, Jan 24 (playoffs), Jan 31 (Championship games)
Day: Wednesday Nights
Division game times and locations:
Freshman boys: 7:15pm or 8:00pm at Northfield
Sophomore boys: 7:15pm at Winnetka
Junior boys: 8:00pm at Winnetka (plus 1 game at 8:45pm)
Senior boys: 8:00pm at Winnetka
Freshman/Sophomore girls: 7:15pm at Winnetka
Junior/Senior girls: 8:45pm at Winnetka
Click here to view the Night League Rules.
For more information, please contact: Katie Woodman krwoodman@gmail.com or 773.909.9663
---