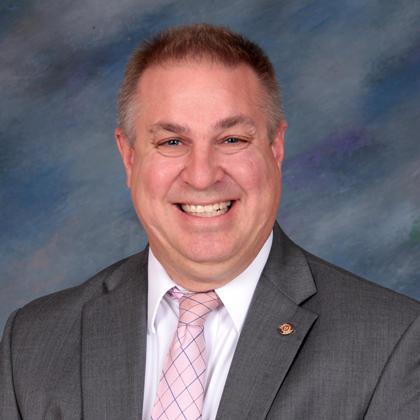 Phone: 847-784-2360
Email:
Degrees and Certifications:
Michael Marassa
Chief Technology Officer
General Responsibilities
Manages all information systems, including budget, operations, and staff.

Provides technology direction for the district.

Coordinates technology applications with district goals through a close interface with appropriate administrators and staff.
Administrative Responsibilities
Works closely with the administration and staff to create a vision for how technology will support the district's strategic goals.

Works with the instructional and technical teams to identify the steps needed to meet strategic goals and a budget that takes into account the total cost of implementing technology solutions.

Directs a program of recruitment, retention, supervision, development, and evaluation to ensure the effectiveness of all personnel in the Department of Technology.

Creates and supports cross-functional teams for decision-making on technology support (including planning and implementation), professional development, and other aspects of the district's technology program including support for the academic/instructional areas.

Directs, coordinates and ensures the implementation of all tasks related to the development of technical specifications and infrastructure decisions, selection, purchasing, installation and maintenance of IT and the integration of technology into every facet of operations.

Oversees the establishment and maintenance of systems and tools for gathering, integrating, and reporting data in useful and meaningful ways.

Guides purchasing decisions, assists in determining the "return on investment" for all technology implementations, and fosters good relationships with vendors, potential investors and other key groups.

Budgets, plans and coordinates ongoing, purposeful, professional development for staff using new technologies in conjunction with the Department of Curriculum and Instruction.

Directs and coordinates the use of e-mail, district websites, voice-mail systems and other forms of technology to facilitate communication.

Oversees the creation, implementation, and enforcement of district policies and educational programs related to social, legal, and ethical issues involved in technology use.

Develops and establishes standards and techniques to assure quality, security and integrity of the district's technology resources.

Actively pursues and secures alternative sources of funding for Technology Services budget to maximize benefits within limited resources.
Academic Preparation
Ed.D in Educational Leadership, National Louis University, Chicago, IL

Superintendent's Endorsement, National Louis University, Chicago, IL

M.S. in Curriculum Technology & Education Reform (CTER), University of Illinois, Urbana-Champaign, IL

B.A. in Teaching of English, University of Illinois, Urbana-Champaign, IL

Chief School Business Official Endorsement, Northern Illinois University, DeKalb, IL
Professional Activities
Certified Education Technology Leader (CETL) Endorsement

Illinois Educational Technology Leaders (IETL)

Illinois Digital Educator Alliance