Wind Ensembles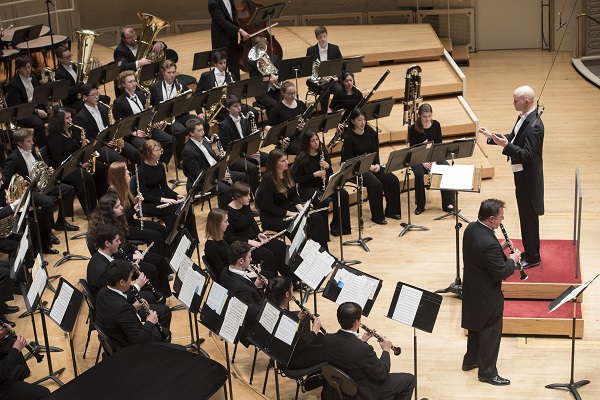 Overview of Program

The New Trier wind ensembles consist of 220 students in four curricular bands: Freshman Concert Band, Varsity Wind Ensemble, Concert Wind Ensemble, and Symphonic Wind Ensemble. The wind ensembles present four formal concerts each year and perform at various non-competitive music festivals throughout the year. All students with previous instrumental training are welcome to play - there is a place for everyone!

Additional Opportunities

New Trier offers several extracurricular clubs for instrumental students, including pep band , jazz combos , Lagniappe-Potpourri , Pit Orchestra, and Soundtraks . Students may also have the opportunity to participate in IMEA District and State ensembles, the Northshore Honor Band, and two local solo/ensemble festivals. Approximately 90% of all wind ensemble students study privately in order to receive one-on-one instruction from a highly-qualified specialist. Some students simultaneously enroll in other music classes, including our jazz ensembles, orchestras, choirs, and/or music theory.

Significant Accomplishments

The New Trier Symphonic Wind Ensemble and Concert Wind Ensemble performed at Carnegie Hall in New York City on Easter Sunday, April 1, 2018. In March of 2016, Symphonic Wind Ensemble completed a tour of Italy, performing in Rome, Florence, and Montecatini. In 2015, the Symphonic Wind Ensemble gave a featured performance at the National Band Association's Band Director Workshop. The New Trier Band Program was selected as a 2013-14 National Winner of the Blue Ribbon Award for Programs of Excellence presented by the National Band Association. In 2012, the New Trier Symphonic Wind Ensemble performed at the Midwest International Band and Orchestra Clinic and the world-famous Sydney Opera House in Australia. Previous performances have included the 2010 Western Illinois University Showcase of Bands, the 2009 Music for All National Concert Band Festival, the 2008 and 2009 University of Illinois Superstate Festivals, and multiple appearances at the Chicagoland "Invitational" Band Festival. In 2007, New Trier was named the National Grammy Signature School, signifying it as having the best high school music department in the nation. Please explore our archives to discover more of our student successes!